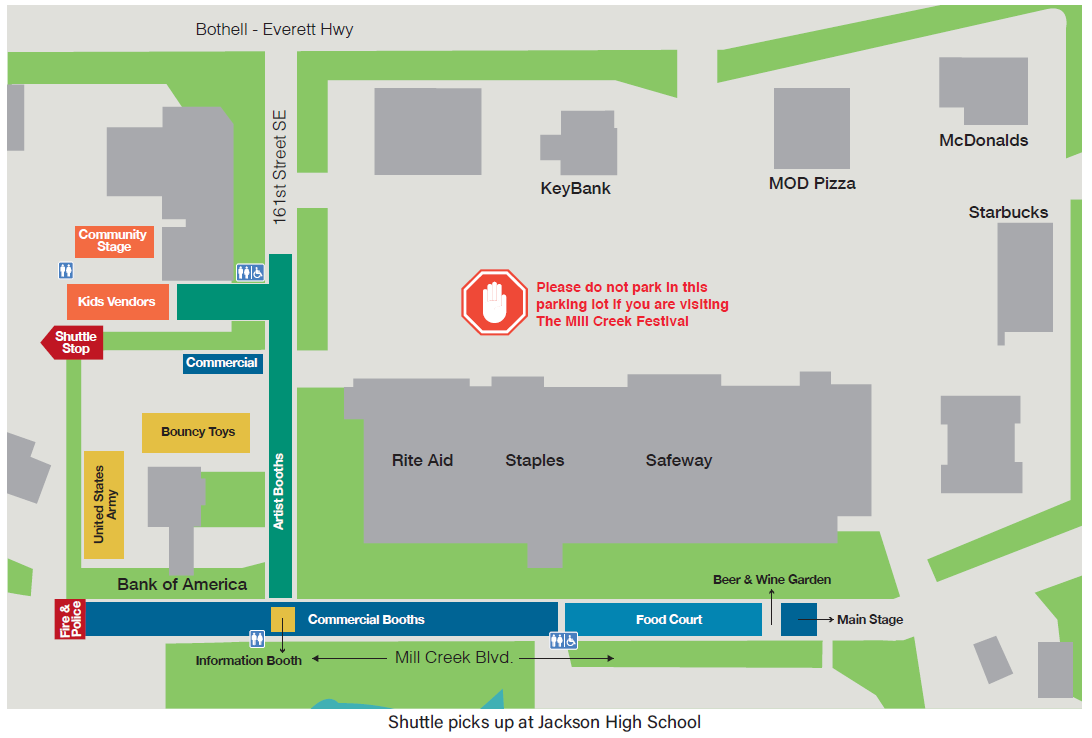 The festival is a street fair, closing a portion of Mill Creek Blvd. (behind Safeway) and heading up a portion of 161st (between Bank of America and Rite Aid).
No festival exhibitor's or vendors are assigned a booth number until two weeks prior to the event when load-in packets are emailed to them.
If you are interested in finding a particular vendor when you visit the festival, check at the information booth. They will have a completed map
with all vendors and their booth assignments and locations during the event.
Northbound and Southbound From I-5 take exit #186 (128th St. SW) and head east on 128th Street SE. Turn right on Dumas Road, cross Bothell Everett Highway to Jackson High School on the right. Catch the Shuttle to the Mill Creek Festival
Festival July 16 & 17 2022
Beer Garden — Saturday 11am -8pm // Sunday 11am-6pm
Shuttle — Saturday 7am -9pm // Sunday -7pm
When you use the Mill Creek Festival Free Event Shuttle

There will be a free shuttle from Henry M. Jackson High School

to the Festival. Drops off at north end of the Mill Creek Festival.

The shuttle will make a continuous loop:

Saturday: 7am to 9pm
Sunday: 10am to 7pm
Directions to Henry M. Jackson High School

Northbound & Southbound: From I-5, take exit #186

(128th St) and head east on 128th Street. Turn right at 16th

Avenue SE (just past the entrance to the former Safeway). Turn right

on to the Bothell-Everett Highway and then take a left at

Please do not park in the Rite Aid and Safeway parking lots as it keeps their customers from having a place park.